Career
Thoughts on Video Game Programming jobs
What inspires new students to pursue computer science education? Previously, I have mentioned that "Drawing and animating is the instant gratification of computer science learning." I remember thinking, back in high school, of getting into the video game programming business, and I'm sure that many students started out with the same thoughts for a future career.
Recently, Reuters has published an article, reflecting on just such a career choice.
David Hodgson, an author of "Paid to Play: An Insider's Guide to Video Games Careers," says the hours are long, deadlines strict, the work can be monotonous and, in the case of programmers, the pay starts at around $50,000 a year — below that of other high-tech industries.
Indeed, one might have noticed "video game programming" colleges popping up all over the place in the last few years. The influx of such specialized graduates would certainly lower the starting salary. In fact, this whole situation makes me recall a certain VG Cats comic on EA's game programmers.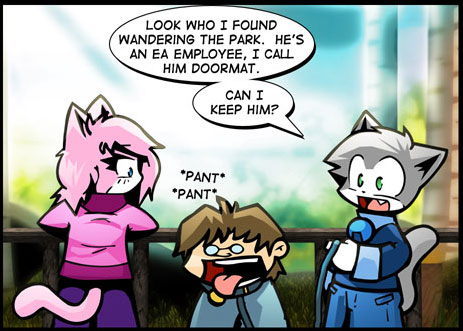 So do video games make a poor choice for the aspiring programmers? Absolutely not. Though it helps to consider the trends involved.
My personal benchmark for the ultimate video game programmer position was always Blizzard Entertainment. And while your 'bonus points' would change from a game to a project, Blizzard's requirements for a game programmer essentially stayed the same:
Strong C/C++ and PC programming skills.
Minimum of 2 years experience programming at least one title that has already shipped.
A passion for games and game development.
Good communication skills.
Bachelor's degree in Computer Science or a related field.
The marked points are of greater emphasis – one can crunch through those "video game programming" institutes and programs, and even get their name on some game title… The top of the line game studios are still looking for formal University education in Computer Science.
A somewhat paradoxical point remains – if every game studio required 2 years of experience, where would a new graduate get it? Everyone has to start somewhere.
Many people make their start in testing but the work can be grinding. It's low paid — around the same as donning a headset and working the window at a fast-food establishment. It can also be mind-numbing as it is not unusual to play the same game or even the same level for months until it's bug free.

But it can be a stepping stone.
So there you have it – a career developing video games has more competition, requirements, and less starting pay. Thought not to discourage anyone, such work does offer creativity, and more room for passion than most IT careers. Ultimately it's still every kids dream to play video games for a living.
So lets hear it – have you ever thought of making video games as a career? What about now? What's your plan to distinguish yourself from everyone else? I'd love to hear what others think!
Read more