Education
On entering the Computer Science field with no programming background
A question was asked:
I'm about to enter into a computer science degree in college. I know absolutely no programming. Is this bad?
It's a fair question – one can be interested in computers, or technology, or making video games, or simply solving problems. Though not everybody might have an opportunity to pick up on a solid computer programming foundation prior to entering a University. It could be for a number of reasons, but a common theme is that high schools are cutting back on the computer science classes. Though that shouldn't be a problem.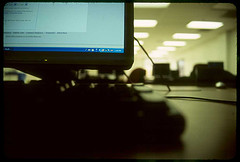 Lets be honest, a student with no programming background is at a disadvantage and must play catchup. Though this is actually a common enough situation that many Universities will assist. The first year classes will often be available in regular and no-or-little experience flavours, designed to get all the students to the same level by the second year. It's a good idea to check with the individual Universities to see what kind of CS101 classes they offer, before sending in your applications.
Now for a 5 point strategy plan:
Don't be discouraged: high schools cover the absolute basics, if at all. The advanced students are those who practise on their own; an average student is often not that far off from not taking those classes at all!
Pick the right program: there are many types of computer science degrees. Take a look at what's available, and choose something that best matches your interests and strengths. It is much easier to catch up in a subject that is more enjoyable.
Make sure this is it: there could be some misconceptions about certain programs, especially around "video game" degrees. Do some more research to know exactly what the program offers.
Practise, practise, practise! If you have time before the University begins, pick up a decent introductory programming language and join some student programming community. Try to follow the tutorials, ask questions, write something. Anything.
Keep yourself motivated: it's easy to loose focus, but those that stay interested are the ones that succeed at the end.
There isn't much to it. Staying on top of lectures and doing some extra coding after labs can easily propel one to the top of the class. All it takes is some interest and effort.
Read more