Video Game Development
Extending XNA game development with XNA Magic
Update: XNA Magic has been renamed to Blade3D due to copyright issues.


"XNA Magic is the first all-in-one game development system designed from the ground up to take full advantage of the brand new Microsoft XNA platform.

Providing an extensible game engine, level editor, particle system design surface, logic editor, script editor and a great deal more, XNA Magic is designed to be both complete and easy to use."
tony_ad_end–>
Opening their website just a couple of days ago, XNA Magic offers a preview of a yet another video game development platform, building on top of the Microsoft's XNA framework. In concept, it is similar to the Torque X engine. Though the XNA Magic's focus appears to be full out 3D worlds and effects.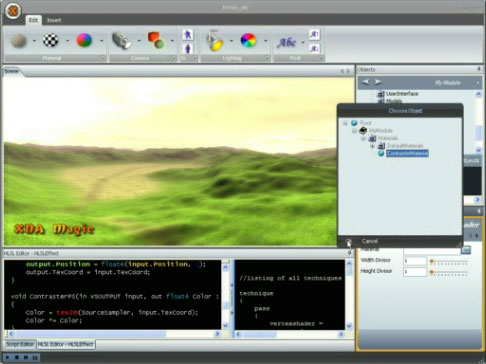 The list of features seems impressive:
Animated Models – "XNA Magic supports bone hierarchy based animation as a standard feature."
BSP Maps – "XNA Magic has built-in support for the Quake 3 BSP map file format."
Community – "fully integrate the community website by allowing access to community assets, projects and tutorials from within the design enviornment." (Sounds much more useful than the Great Games Experiment network)
Dynamics – "Simulated properties include position and orientation, linear and angular momentum, friction and damping. Static forces such as gravity and collision geometry can easily be specified at the scene level."
Galleries – "The XNA Magic development environment provides easy to use gallery based editors." Meaning to say presets available to objects and environments.
Object Model – "The object model is fully scriptable and provides a rich API that allows many services to the application programmer."
Particle Systems – "By visually connecting components in the graph editor you can easily create stunning particle systems in a matter of minutes."
Post Processing – "Add amazing effects like motion blur, bloom or depth of field from the built-in library or use HLSL to create your own."

Scene Designer – "Place models, lights, cameras and other scene items using convenient and familiar WYSIWYG manipulation tools."
Scripting – Object or Class level C# behaviour scripting.
Shaders – "XNA Magic development environment provides a great HLSL editor for editing your shader code." A number of pre-made effects are included out of the box.
Shadows – simply "select the lights and objects that will cast shadows and enable shadow casting."
Terrain and Sky – "Adding terrain to your scene is simply a matter of specifying one or more height-field textures, choosing detail texture maps as needed and setting common properties such as fog color and distance."
Vector Fonts – "The development environment allows any Truetype fonts to be converted into light-weight geometry."
The system is still in development, though so far it looks promising. The pricing is not yet known, but it is suggested that there will be multiple versions or licensing options to fit smaller budgets. For now, those interested in developing 3D worlds for their XNA video games, can register to receive XNA Magic Beta One – due out this Febuary.