Dan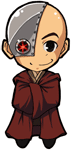 Posted: Tue Jun 08, 2004 10:52 pm Post subject: Dan's Absence

---

Due to exams and other such things mostly invaling school i will not be able to actively admin, view or post on thess froms for the next 2-3weeks. Hopfully nothing to bad dose not go down when i am gone, but if it dose there are other admins and mods to deal with it.

Sory for the Absence but some things are inaviodable,

See you all in about 2 weeks....


P.S. i will deal with any errors or forum isues then, for thos that where PMing me.

Computer Science Canada

Help with programming in C, C++, Java, PHP, Ruby, Turing, VB and more!