Tony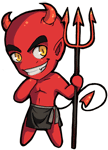 Posted: Mon Jun 07, 2004 10:48 pm Post subject: re: Posting Error

---

weird, the permissions for posting.php file got messed over, preventing people from posting. The permissions were reset so it works now (as you can see), but I'm trying to figure out why they got messed over in the first place... umm... carry on
Tony's programming blog. DWITE - a programming contest.