Dan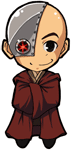 Posted: Wed Mar 05, 2003 6:07 pm Post subject: SWAT turns in to CompSci.ca and gets a new url

---

As the topic says we have moved to a new domain name. You shoed up-data any links and/or bookmarks. We don't won't to loses any one in the move .

Also we have upgraded the forum a bit. Now you can send e-mails to other users on the broad form the profile with out having to use your own e-mail. Also when people sine up they get an e-mail saying they did and what there pass is. In addition we add a thing to get your pass if you for got it and we added pm notification by e-mail.

The main page of compsci.ca is currently being updated and will be a

lot

better soon. We recommend that if you make a bookmark to this site that it is set to www.compsci.ca and not www.compsci.ca/bbs/index.php because we may charge the forums url.

In addition to this we may be giving away some free e-mail forwarding, web based and mail server based e-mail accounts. If interested e-mail me at dan@compsci.ca or post here.

P.S. you can also e-mail tony at tony@compsci.ca for help about Turing.