Dan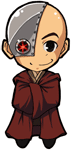 Posted: Wed Jan 29, 2003 11:14 pm Post subject: What do you think of this pic?

---

this aboslety nothing to do with swat or turing but what do you think of this pic i made?




if you whont to know it has to do with a game.

i whode like any input you have, good or bad.

also if any of you have pics you have made on the computer and whont to see what poleop thik of them feel free to post away .