Dan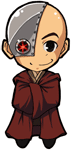 Posted: Tue Dec 16, 2003 12:22 pm Post subject: Down Time

---

As many of you may have noticed our site was down for a few days. This was a problem on our hosts end and to put it nicley we are pissed at them. We will probly be moving the site to a new host over the cirstamass break witch means more down time

Also some of the events we are plaing like the awawereds will be dealed a bit.

We will try to keep the site up as much as posable during the move but exspted some down time, at least it is good timing we ushley get fewwer vistuers during cirstmass holaday.