Tony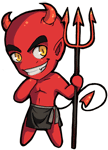 Posted: Wed Dec 10, 2003 1:47 pm Post subject: [flash MX contest] The Greatest Story Never Told

---

http://www.thegreateststorynevertold.com/ is hosting an international Flash MX competition where you animate a story between 2 and 20 minutes in length.

16 different categories to compeat in. Crazy prizes available. First place (for each category I assume) includes Studio MX 2004, 3DSMAX 6, digital camera and a bunch of other stuff. 2nd also has enough. Most importantly you get tons of recognition in the field 8)

Deadline for submissions is January 15, 2004. Anyone interested should check it out.
Tony's programming blog. DWITE - a programming contest.