Dan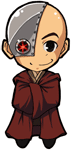 Posted: Sun May 06, 2007 12:30 am Post subject: CompSci.ca BugTracker

---

I have just started a Bug Tracker for CompSci.ca's services such as V3. You can click on the new icon called bugs at the top of the forums or go to http://compsci.ca/bugs to submit or view the bugs.

I am planing on fixing up alot of the problems with V3 over the summer so if you submit all the bugs you have found to the tracker it will make it much easyer to do.

You can either login anymously to post bugs or sing up for a acount on the bug tracker.

The bug tracker also covers other CompSci.ca projects like DWITE, the wiki and the blog in case you find any bugs with them.




Note:

you can also use the bugtracker for submiting featuer requests, so if there is somthing you whould like to see done to the site submit it!