Personal
University of Waterloo Tour + Wings 2007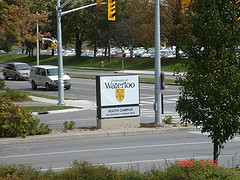 I think it is essential to really research the University, and visit its campus, before committing to 4 or 5 years of study. Twice so, if the University of interest is in a new city. So I am organizing my second annual unofficial University of Waterloo campus tour and wings.
The event is open to all forum members, blog subscribers, and pretty much anyone else who contacts me with interest. The latter you have to do anyways, to find the group. So if you are still deciding on choosing a University, want to get a head start with campus orientation, or are simply looking to meet and hang out with fellow community members – you are invited.
The event will take place on Sunday, March 11th, 2007 – it's March break (I think), it's on a weekend, it's got to be a free time to come out to Waterloo. It will be fun, I promise! After the campus tour we'll meet up at Molly Bloom's, the Irish Pub, for some chicken wings and chat.


Coming out (besides myself) are:
Geoff "Cervantes"
Martin
Adrian "Hikaru79″
Clayton "Freakman"
Small group, but it went quite well last year. Let me know if you are interested, or just leave a comment with any general questions.
Read more