Personal
The silliest reason to get a MacBook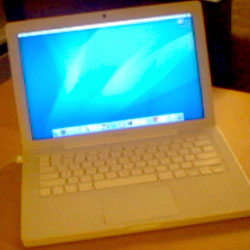 My consulting work, as a Web Developer, sometimes requires cross-browser development. It's an annoyance to find common ground between different CSS implementations in different browsers. Though I hear JavaScript is worse. So while working at the office, we had a machine dedicated to testing with IE. Now that I'm back at the University of Waterloo, the fact that I don't own a copy of Microsoft Windows is becoming much more apparent.
I need to run Windows to run IE to test websites I make. Hmm…
Got it. I'll get myself a MacBook!
So there you have it – I have bought myself a MacBook for the sole purpose of testing websites with Internet Explorer. Well that's not quite true. I wanted an Apple laptop for quite some time, but I didn't really need one. My Linux powered laptop has performed well over the last 3 years. In fact, I would have probably continued on with it for a while yet, if it wasn't for this work related necessity.
A MacBook is a wonderful development laptop. The hardware specs are an amazing improvement over 3 year old state of the art. It puts me in the very enjoyable and very productive OS X environment. And BootCamp makes dual-booting into Windows a snap.
It's been a while since I was this excited about getting a new piece of technology!
Read more