Education
Super Paper Programming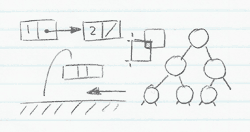 In today's over digitalized environment, I think that many people, especially younger students, are missing the value that paper and pencil still supply to the field of computer programming. No, not the punchcard programming, or writing pseudocode on a paper exam — that's bad. I'm talking about sketching out your concepts — that's good!
It's difficult to implement the code, if the ideas involved also have to be figured out at the same time. Some students jump to their code editors, but the efforts quickly come to a halt as the problem at hand exceeds trivial knowledge. This is especially apparent with problems involving Geometry. How would one figure out if two circles collide with each other? Sketching out the situation on paper leads to the answer much faster than a blank stare at the variable names.

There are at least two parts to this approach:
Figuring out something new. When faced with a new problem, we probably need to do some thinking and to explore some of the ideas that come up. One should be much more willing to make mistakes in a rough sketch on paper, than typing up code that might not even work.
In a sketch, we could also start out with familiar objects, and figure things out from there. For the above example, it should be obvious that two circles are involved. It's much easier to spot, from the sketch, that the distance should also be measured. It's not as apparent when the same two circles are represented by a few lines of code in a text editor.
Keeping it all in your head. Even if all the individual parts are well understood, sometimes it's helpful to visualize how it all fits together. Perhaps more applicable to the data structures, or database layouts — sometimes the total amount of information can quickly become overwhelming. Having a diagram to refer to, keeps the mind available for figuring things out, not remembering all the details.
The technique of sketching our the situations of new problems encourages more thought to be put into development. This is why we explicitly allow "Unlimited amounts of pens, pencils, erasers, and paper" in the DWITE rules.
Together with rubber ducking, paper sketches are reasonable, accessible, and simply helpful approaches to problems. Sometimes, even more so than bothering teachers for hints.
Read more