Career
Sample requirements to break into the game industry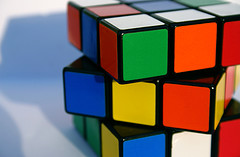 Original image by
Toni Blay
For those interested to overcome video game programmer requirements, I previously wrote on working while still in school. Though game development is a tough field, and it takes more than just computer programming skills, even for student level jobs. Positions that will contribute to your "two years of experience", and especially "one shipped title" are difficult to come by. For a better perspective, out of 950 Computer Science related jobs advertised at my University, only 3 have to do with game programming (although, not many students have applied). One, I have mentioned before already.
Clearly, student opportunities for a career in game programming are scarce. To succeed, one needs to prepare to meet what is looked for. So I am going to reflect on another video game job posting, and highlight the trends. Once again, the actual company name is omitted.
Our company has an opening for a bright, talented and passionate co-op student that has always dreamt of a career in the video game industry. Here is your opportunity! We offer a competitive salary and benefits package as well as the opportunity to work on the cutting edge of software graphic and interactive program development.

As a programmer on one of the most highly anticipated next-gen console games, you will take on tasks that apply to your interests and skill set. These can range from engine programming to graphics to gameplay programming, networking to Playstation 3 or Xbox 360 specific coding. We are looking for individuals near or at the top of their class who are dedicated, enjoy video games and would love to be part of an elite programming team where your efforts will have substantial impact on the outcome of this product.
Sounds demanding, but the game title is indeed highly anticipated. This gem of a position would look amazing on a resume of anyone looking for a video game developer job. Lets take a look at the technical requirements:
Working towards BS in Computer Science, Engineering, Mathematics or a related discipline.
A burning desire to write code you can be proud of.
Strong communication skills, work ethic and motivation.
Expertise in C++.
Previous experience working in a fast paced team environment.
A strong interest in video games.
Must be comfortable working on projects with a large code base and long development cycles.
With bonus points for:
Having worked on personal projects in the domain of game development.
Knowledge of PERL.
Once again C++ is shown to be essential. It's simply fast, so it is still in demand. Personally I would recommend to stay away from C++, if you are relativly new to programming – save it for later. It is much easier to gain your required "expertise" once you know what to look for in a language.
Obviously strong interest and passion are required for the field. For computer programming in general, but especially in the game industry. Show why you want this job so much!
I am especially excited over the inclusion of the last point: Having worked on personal projects in the domain of game development. Incidently, this term I have joined University of Waterloo's Game Development club. More info to come.
So the observation remains the same: continue building up your programming experience. The concepts are language independent, but experience is still required. C# is good, but C++ is still more common in the industry (for now). Have something to show for yourself – a complete personal game project will demonstrate many of your traits. And, of course, passion for what you do! Good luck.
Read more