Programming
(not) Cargo cult programming, source control, communication, and lack of it all
Sometimes group projects go wrong. Terribly, terribly wrong. Consider a multi-group project with a shared code-base, for a car racing game. Coded in C.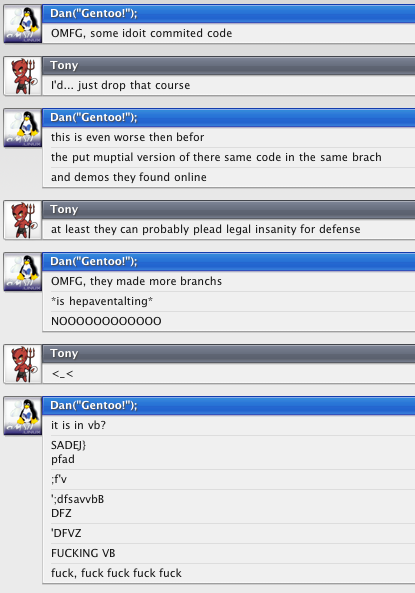 "This is even worse than before. They put multiple versions of their same code, in the same branch. And demos they found online."
Cargo cult programming is a style of computer programming that is characterized by the ritual inclusion of code or program structures that serve no real purpose.
I have seen some students try to paste in blocks of code, seemingly at random, out of desperation, frustration, confusion… though doing that in a completely different language is new. Epic fail!
The thousand monkeys on thousand typewriters mentality fails as the number of monkeys approaches one. Software rarely gets better from having more code thrown in (actually it often gets worse). And lack of thought poisons the code-base for all of the team members, with content that should simply be deleted. This quickly turns into a mess of a project.
We've got to get more monkeys!
So for everybody's sanity (and better grades!), lets refrain from throwing random code into group projects. I think a good rule to have is a requirement for some comments (it's ok if they are short), both next to the new code, and in the source control commit messages. If anything, then simply as a proof, to everybody, that you know what you are doing. Lets be honest, if one isn't sure what's happening with their own code, others will have even less of an idea trying to figure it out.
Read more
Uhh... nothing else appears to be relevant enough.