Personal
My workstation setup
Some people were wondering about my computer workstation setup, so here it is! This is the place where I take large amounts of caffeine and convert it into large amounts of Ruby code for GigPark.com.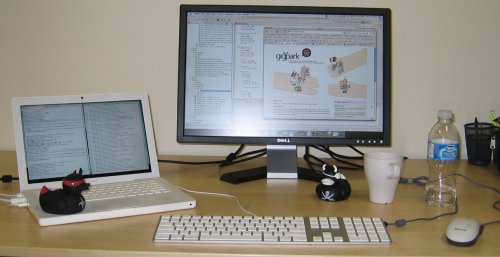 The entire setup runs off my shiny MacBook — 2 Ghz Intel Core 2 Duo, 2 GB RAM. And yes, that's a pair of rubber duckies that help me with my software development.
The main screen is occupied by Eclipse, while the laptop's screen hosts webserver and autotest logs. The extra space is crucial for the development as it allows space to keep the background tasks by the side, not in the background. Having autotest visible is exceptionally useful as it lets me know if I'm breaking any code (assuming I keep up with writing my specs that is). Though then again, maybe a second monitor just makes me feel better about myself.

Read more
Uhh... nothing else appears to be relevant enough.