Career
My job is more addictive than Facebook
Recently I was asked as to why I was not available on IM or other forms on online social communication mediums, during the work hours. My initial response of "it's distracting from work" was not met with any understanding. I have thought of quoting a good practice of checking one's email when one has time for it, not have it pop up on screen, as to not break the zen like state of programming. It soon became apparent that I simply had a different perception of what "work" is.
Jessica Hagy of Indexed has put things into a nice perspective.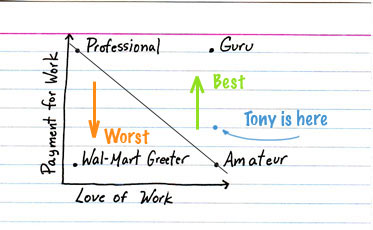 I'm an amateur programmer, I write code for fun, but I also get paid well – for a computer science student. I love my work! I am lucky enough to work with Ruby and Rails. I'm finally getting to figure out AJAX, and more in-depth JavaScript. All this Web 2.0 awesomeness contributes to the "oh, it's 6pm already? I guess I should go home now…" type of reaction, instead of packing up at 4:55. There is an overwhelming feeling of accomplishment when my code begins to work as it should, and once more when I put the task paper back on the wall, marked with an all done sticker. Alright, I'll check for your email now.
Though it seems that not everybody is as fortunate, and it appears to be especially bad for many students. Lacking experience and educational credentials, there is little room to be picky about jobs. Some companies worsen the problem by advertising positions through Universities, but are really looking for cheap, disposable labour. Last year I met 4 students from my University (Mechanical and Mechatronics Engineering) who all worked on synchronizing AutoCAD drawings with database data – apparently it's cheaper to hire a bunch of students than to invest into a piece of software that does the same thing.
In the above example, the guys got as much Facebook experience as they did of technical AutoCAD. Alright, I can see them wasting the day away, chatting to other bored students who don't particularly care for their Quality Assurance tasks.
Clearly they are in the wrong field. You've got to do what you love. Now that I'm here, I can continue on improving my salary with more experience, finishing my undergraduate degree in Computer Science, etc – though not at the expense of enjoyment of what I do. I suppose everything has its price, but I will not cross to the left of the Professional-Amateur line. So that's why I am not on MSN or Facebook during the day – it's distracting from what I want to be doing. I might check Digg's technology/programming sections though.
So where do you find yourself on the graph, and how do you plan on getting to where you want to be instead? Reply with a comment!
Read more
Uhh... nothing else appears to be relevant enough.