Education
How to study for Computer Science exams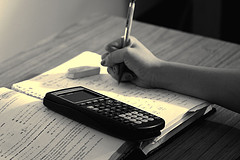 What started out as a question on University admission marks has brought forth a topic of gaming the educational system. And while in Canada it's not as obvious as studying for SATs, or similar standardized tests, the schools still come with enough rules and misplaced goals to create a game for students who see it as such. When Universities look at just admission averages, it becomes a game of numbers, and there are certain moves that can be performed to increase those numbers without increasing what the numbers represent — the knowledge of the subject.
Of course this topic is a vast gradient of gray, as some forms of gaming are so common-place that such are even encouraged. Though others recognize them for what they are.
McKenzie, a high school Computer Science teacher starts off the discussion with an example:
Is it OK to study before tests?

I went to school with a guy who would never study before tests because it was gaming. You are artificially raising your knowledge before the test in a way that will not permanently increase your skill/knowledge.
Professor Prabhakar Ragde, also instructing Computer Science, follows up:
Studying before the test in ways that will not permanently increase your skills or knowledge is foolish. In the case of a final exam, you may get the credit, but you will be underprepared for the next course. In the case of a midterm, it is a little like drinking a lot of water before going to see your doctor for a checkup so that you will "pass" your blood test. Midterms are supposed to expose weaknesses that you can fix before the final.
Update: Alfred Thompson follows up with his own blog post:
Later in life when I was writing and giving tests to my own students I wondered just how good the tests were evaluating what students really knew. One of the things that complicates cramming for students of computer science is that everything builds on everything else. A student needs to know everything they were taught in the first week of class in the last week in class.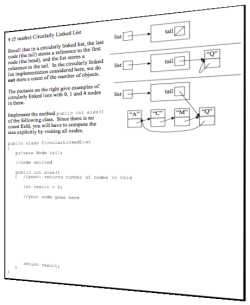 Still, most students study and for the most part it's indeed ok. Unless it's Computer Science.
I never understood the process of studying for a Computer Science exam — the best one can do is memorize, but "such static regurgitation of a memorized fact serves little practical value."
One can't memorize how to write custom code — that takes practice.
One can't memorize how to find bugs in code — that takes understanding.
The way to "study" for technical fields, like Computer Science, is to review your understanding of the material and practice to cover your weaker areas. Though much of the basics are expected to become a habit, so such need to be in constant practice over the duration of the course. Crunch time, a week before final exams, does not form habits, or even offer understanding — it just artificially raises your "knowledge" of the test, for the duration of that test.
For my last CS exam I found more benefit in relaxing, enjoying some music, and reading blogs. Though maybe I'm missing something. What does everybody else do for their exams?
Read more