Other
Heatmap distribution of dirt in a keyboard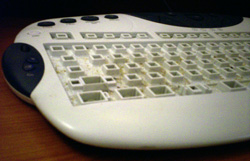 I always knew that keyboards tend to collect dust, hair, dead skin cells, and anything else you might happen to have on your hands, but it wasn't until yesterday that I found out how close to a biological hazard my keyboard has come. Originally I've removed just the letter keys to rearrange them into a dvorak layout, but then ended up cleaning out the entire keyboard for sanitary reasons. What a mess.
If you are wondering as to how to clean a computer keyboard, it is quite easy (unless it's a laptop) – pop up the keys with a flat head screwdriver (do not apply enough force to break anything) to expose the dirt, and then use wipes or compressed air. The fallen hairs fly right off, but the accumulated dead skin and dust is likely to stick to the keyboard surface, so you might have to get in there with some force.
All of this reminds me of XKCD's optical illusion involving a dirty keyboard:

An interesting observation was that there seemed to be more dirt under certain areas of the keyboard than others. Interested in patterns, a crude heatmap of distribution was constructed.

Clearly, the worst area is in the lower left corner of the keyboard. Not surprising at all, since this is where I always rest my left hand, and it's easily the most active area of my keyboard layout. Besides the primary control keys, Ctrl, Alt, Shift, there are also the most common shortcut keys for Copy, Cut, Paste, Select All. One could probably guess that I don't game a lot, since the WASD area appears cleaner than it would have otherwise.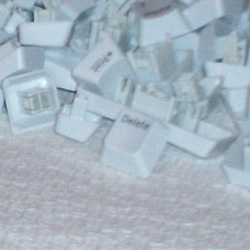 It's kind of fascinating how the concentration of dirt under a keyboard could be explained by usage patterns. Del and Page Down are the only keys I use out of that block. I sometimes use Left to shift back through text, but that's about it for the arrow keys. The num pad area is mostly clean – I don't do accounting. On the Function key row – F5 is commonly the refresh key, though F9 is a bit of a surprise. It might have been just some food particle that stood out. Backspace, Enter, Shift see more usage.
Keylogger free, there's a whole story on the keyboard usage, slowly building up under the keys. What do you think could be said about you, judging only from your keyboard? Discuss in the comments!
Update: I talk a bit about how I took my keyboard's keys off below in the comments. With pictures, check it out.
Read more