Education
Excelling in Computer Science: It's up to you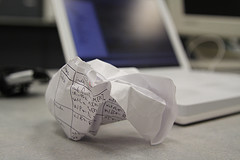 About a week ago, I wrote an article on keeping students interested in computer science. After that article was published, there was a record breaking amount of feedback concerning it. The general consensus was that there is indeed a huge problem with students losing interest in computer science. Today, I'd like to talk about how students can instill that interest into themselves.
Computer Science is a difficult subject. There's no two ways about it. This means that it's not for everyone, but that's no different than anything else. The best part about computer science is that there's always more than one way to solve a problem, and for a lot of people I've met/talked to, this is a huge reason of why they love programming. This brings about one of the great facts of computer science: there're literally millions of pages out there with information related to teaching yourself.
If you ever find yourself bored with what you're doing in class (if that's the case), go ahead, jump into a new topic (or another language even). Really, if you find yourself bored all the time in class, and don't do anything about it, you may find yourself thinking that you don't want to do anything computer science related due to dull experiences.
That being said, if you really want to enjoy Computer Science, Challenge Yourself. Really, it's the best possible favour you could do for yourself. Sitting back and playing video games in a programming class is going to make it really hard for you to excel. In fact, most people you ask will tell you that they have learned far more material in their own initiative, than not.
The best way to challenge yourself in Computer Science is to enter some coding competitions. There are several floating out there in cyberspace. The first ones that come to mind are TopCoder, Project Euler, and the upcoming school competition DWITE hosted by our very own CompSci.ca.
So go ahead, jump into a new language, concept or contest and challenge yourself, enjoy computer science, and keep yourself interested!
Read more