Education
Computer Science at Ryerson University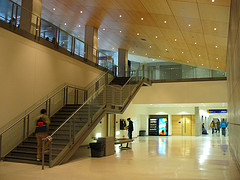 Ryerson University is located in the heart of downtown Toronto, and is only a short walk away from the University of Toronto campus. This medium sized, 24,000 student University is very urban, and spots a new (2004) George Vari Centre for Computing and Engineering building — home to the Department of Computer Science and the Computer Science program: 4 year regular or 5 year co-op. Bachelor of Science.
You will develop in-demand programming skills, and study algorithms, data structures, software development, computer architecture and hardware, and discrete mathematics. You can specialize in operating systems, distributed systems, robotics, data communication networks, compiler design, computer graphics, web applications, database systems, AI, multimedia systems, software engineering, computer security, or the theory of computation. If you're interested in a career in science or engineering management, you can also specialize in management science.
That's quite a number of options to appeal to various interests. That is always good.
The first year is trivial — Calculus, Discrete Math, Physics, and obviously Computer Science. The introduction starts off with C in a UNIX environment, delaying the object-oriented paradigm until the second year. This could mean a lesser learning curve to students with little computer science background. Then the programming skills are further developed through introduction to Java, C++ and "other in-demand programming languages". The program seems to be hands-on with practice, but it also diversifies with the choice of technology, which is important for career-minded graduates.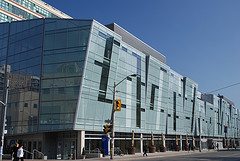 The latter half of the program allows for electives from the above mentioned specializations.
Getting into Computer Science at Ryerson University requires courses out of specific sets. English and Advanced Functions are required. As as well one more science (Physics, Chemistry, or Biology) + one more Math (Calculus or Data Management). The admission average is not specified, though a minimum average of 70% is still in play. There is also a supplementary application form available (and required for students outside of Ontario).
Personally, I would be interested in some of their Web Applications courses — but that's my niche. Hopefully a 2 year introduction to Computer Science at Ryerson will be enough to figure out one's interests.
Read more