Education
Chemistry for Software Engineers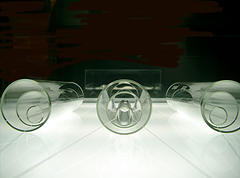 An interesting question was recently brought up on the Computer Science forums. The Software Engineering program at the University of Waterloo requires a high school chemistry credit, as well as taking a university chemistry course in the first year of studies. Inspired by computers, but disliking chemistry, iluvchairs112 wonders:
what does chemistry have to do with software engineering at all?
And while the simpler truth is that a chemistry course is required for an accredited Engineering degree, there might be more to such choice of a curriculum. Even if not immediately apparent, there is certainly a common ground between Computer Science and the Science of Chemistry. wtd points out:
They're checking to see if you can handle the basic rigors of scientific process.
Despite the subtle differences between Computer Science and Software Engineering, it all comes down to science – something that I think lacks in high school CS classes. We are too busy memorizing algorithms and there is little room for experimentation.
If the scientific analysis in Computer Science is outside the scope of high school curriculum, perhaps more traditional sciences such as Chemistry and Physics will infuse some good practises of a scientific process instead. After all, "Being a well-rounded person is a Good Thing" — wtd.
Read more