Other
24 Money saving ideas for University students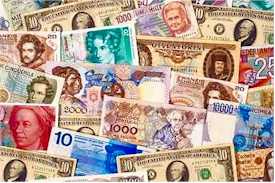 A University is an expensive pursuit, especially for Engineering and Computer Science degrees, that tend to last longer, have more courses, and might require more equipment than a typical program. This collection of money saving tips is by no means limited to just Computer Science students, as everyone could benefit from having a little extra cash left over. Besides, Computer Scientists are students too, even if they don't always seem that way.
Saving on Tuition
University tuition is easily the biggest expense in any student's budget.
Scholarships and bursaries – you could still be eligible for some, even in senior years of study – research into what's available.
Financial Assistance – consider any applicable financial assistance programs. For example, in Ontario, OSAP is an interest free student loan that you don't have to pay back as long as you're a full-time student.
Pay for tuition with a rewards credit card – if the University allows, pay for your tuition with a credit card, and instantly pay off your credit so that you don't get charged interest. You can earn up to 1% of your tuition cost in reward points. It adds up.
Saving on Textbooks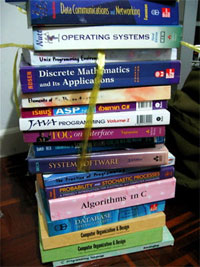 Textbooks is another large and instant student expense, especially during terms filled with technical courses, as is common for Computer Science and Engineering students. Buy used textbooks is probably the single most common money saving tip for students. Though considering that book editions are updated every couple of years, you might or might not be able to sell it back as easily as if you would have gotten it new. There are also a few other ideas and alternatives:
Buy and sell privately – if you arrange for an exchange yourself, you bypass any Used-Bookstore fee that might have been. You can sell for more, and buy for cheaper.
Get a hold of an International Edition – International edition textbooks are the same books, but are softcover and of lower print quality. Though they are also significantly cheaper! You would have to find them online, so plan ahead for the delivery time before classes begin. Also keep in mind that the Used-Textbook stores will not take it.
Use library's textbooks – on campus libraries will often hold a few copies of all the required textbooks. It works well for occasional references, but plan ahead for the exams as the availability is not reliable.
Simply borrow from friends – some students might choose to hold on to their textbooks for future reference or another reason. If they are not selling a textbook that you need, you could probably get to borrow it for a nominal fee, if any.
Saving on Rent
Living at the student residence can be a lot of fun, but it's also one of the most expensive approaches to housing. I would generally recommend to spend the first year at the University residence – it's a crash-course into the University lifestyle. Though consider other options for the following years.
Living off-campus – is generally cheaper, or you can get a much nicer room for the same price as for the on-campus housing. There's usually a gradient of pricing based on how far away from the University campus the room is, so shop around.
Co-op housing – an in-between position. A student dorm style housing that's often nearby the campus location. There's a discount, but you might have to do some occasional chores like cleaning up in common areas of the floor.
Living at home – if distance allows, there's always an option of continuing living at home with your parents. Just keep in mind the commute to classes. Or having your significant other over
Buying cheap furniture – every year when students graduate and move out, they would often try to sell off their furniture. For very cheap! This doesn't save you on rent, but it's a chance to improve the living conditions.
Saving on Food
Another common money saving tip, with the basic idea of: cook on your own as much as you can. A daily $5 lunch adds up to a $150/month expense. With a little practise, a home made dinner is a much healthier meal than takeout. Cheaper too!
Saving on Entertainment
What should a student do while not studying? There's plenty to do for free!
On-campus events – there are usually plenty of student events and activities going on to keep one entertained. There are occasional movie nights, and presentations, and shows going on. They will probably be announced in the student newspaper, or on bulletin boards – take a look.
Clubs – look into what events are organized by clubs, or even start your own. For example, my University has an Anime Club that regularly books lecture halls with projectors. There's also a video-games club that hosts tournaments or just free-play sessions.
Don't pay for cable – there are often cable TVs available in common areas of residences or student lounges. YouTube is my channel of choice!
Saving on Transportation
Discount public transit – even though the public transit will probably no longer sell you student tickets once you're out of high school, take a look at what kind of assistance your University provides. For example the University of Waterloo's student ID now acts as a bus pass; University of Toronto offers reduced rates for TTC's monthly passes.
Carpool for long trips home – if you're attending a University out of your hometown, and are driving back for a weekend or holidays – your gas cost will be reduced by a factor of number of people sharing that ride.
Other student discounts – taking an intercity bus or a train is often cheaper than driving by yourself. There are usually good discounts involved with a student ID presented.
Ride a bike!
Saving on Long Distance calls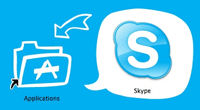 Skype is the cheapest way to make long distance phone calls. It's also a great way to fight telemarketers offering you phone plans, as they simply can't beat the price of free.
Saving on Computers
This wouldn't be a Computer Science article without some computer related tips.
Cheap hardware – when upgrading their equipment, Universities often sell off the old units at surplus sales. It's not just computers, so find out when those sales are scheduled and browse around. Plan to attend at the opening, and you could score yourself a working computer for a bargain price.
Free software – open source projects are free, and are often argued to be of better quality than their commercial counterparts. Ubuntu Linux, OpenOffice, Firefox, InkScape. You don't even need to be a programmer to install or use any of it, though it might be a good idea to find someone familiar with the topic to match you up with the best software for your needs.
Student discount software – if Linux is not your thing, or you absolutely must have a familiar logo on the application's splash screen – check with your University. They often carry distribution licenses for common software packages (including most of Microsoft products) and will give you a copy for an almost nominal fee.
So there you have it, 24 money saving tips for University students! Can you think of something else? Please share in the comments.
Read more