Contests
Video Game Programming Contest with XNA: Dream Build Play Competition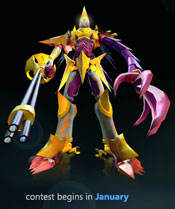 If anyone needs some extra motivation to work on their dream game, then Dream-Build-Play Competition is it. So far just a teaser, the only published information is that the contest begins in January 2007, and involves developing video games for Xbox360 with the XNA framework.
your dream game – build it today – millions may play it tomorrow
Promises of "fantastic prizes" and "global envy" suggest large scale distribution of successful entries. This should sound excellent for anyone thinking of getting into video game development business.
Oh, and if anyone wonders if there's some subliminal message encoded in all those dashes and dots at the bottom of the contest website – there is. The message is: "your world your game", XNA Game Studio's slogan.
I'll try to publish more information as it becomes available, subscribe to RSS feed to stay up to date.
Read more