Open Source
The Open Source gift guide – MakeZine style!
Just in time for the holiday shopping season, MAKE Magazine is publishing an "Open Source gift guide" – present ideas in the spirit / theme of Open Source. With my recent involvement into Open Source, this is naturally an interesting read.
"There are hundreds of gift guides this holiday season filled with junk you can buy – but a lot of time you actually don't own it, you can't improve upon it, you can't share it or make it better, you certainly can't post the plans, schematics and source code either."
Since gifts are generally associated with something more tangeble than lines of code, the guide concentrates on Open Sourced hardware (schematics and parts) and devices or gadgets that run Open Source software.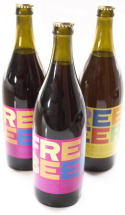 An exception to this technology oriented list is Free Beer, that is free as in Open Source. A source of refreshment, confusion, and endless debates on philosophical and economic themes – this is a must get recreational refreshment for my next dorky party with fellow Engineers at the University.
"The recipe and branding elements of FREE BEER is published under a Creative Commons (Attribution-ShareAlike 2.5) license, which means that anyone can use the recipe to brew their own FREE BEER or create a derivative of the recipe."
Cheers,
– Tony
Read more