Asides
Tempting… almost free bonus test marks!
My younger brother Mike, who was recently inspired with a variety of hilarious drawings left on written tests, has attempted to score some bonus marks on his grade 11 Physics test with his artistic abilities. He almost got away with it too!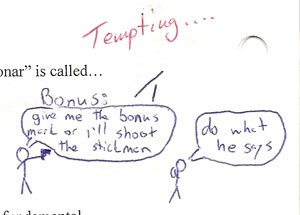 This brings two points up for discussion – bonus marks on tests, and entertaining one self during exceptionally long test periods.
Read more
Uhh... nothing else appears to be relevant enough.