Other
Technorati Noise

Technorati is a household item among blog publishers. Supposedly a "blog search engine", it's only practical applications are checking the number of blog originating backlinks, and estimating a blog's earning potential for advertisment services such as Text Link Ads. So lately it began to receive a lot of negative attention.
Technorati is littered in LiveJournal and MySpace personal journals that dilute from the concept of blog publishing. Those are not even the so-called Z-listers that are just starting out, but a whole new Alpha-list category that documents their daily life for the world to see. To illustrate my point, a search for "work up this morning" results in over 300,000 records.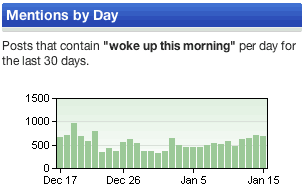 That makes approximately 500 daily posts of people informing the world that they have awakened during yet another morning. This is complimented by almost as many "went to sleep" posts (250,000 total) at the end of the day. Worse yet, any mention of an acquaintance one met anywhere in between or around waking up and going to sleep, results in a linkback from the same social network. Brillant, we've now established that sleeping with one's MySpace network and "blogging" about it is directly proportional to one's "authority" according to technorati… Well, I suppose there is a niche market for anything. Though there needs to be a way to distinguish between "authority" on your own social circle, from a technical "authority" on a particular tag's subject. PostRank for RSS anyone?
The point here, of course, is that the aweful signal to noise ratio of Technorati search makes it difficult to discover new blogs (not journals) that are starting out, even with great quality. It is a closed loop where the A-list blogs get all the traffic and links, in large part just for being on that A-list. And since Technorati makes the cutoff at 100 mark (out of 55 million), that's a pretty darn narrow group to break into. Technorati's longtail seems way too noisy for practical use.
Read more