Other
Tech link train wreck – final stop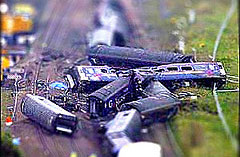 The newest meme spreading through the blogosphere, is the so called "tech link train", with a very obvious purpose of gaming both Technorati and Google ranking systems. Links are the currency of the internets – Technorati increases your rank for new links from blogs, while Google increases your rank for links from pages of similar topics. Combo points for accumulating backlinks from blogs that write on similar topics.
The target topic is science and technology. Not only does Computer Science fit the criterion, but Richard Curry of tek-works has put me on top of his list. Thank you Richard.
Now I could just carry on, inject my own blog into the lengthy link load, and send out 5 more of such "trains" into the wild. I will get free links, and so will everyone in the train's path before me. Though I don't deserve such links, and nether do others. Not because they are bad blogs, in fact many are high ranking A-listers, but because this pyramid scheme generates a lot of highly sought after resource, without providing much value in return. It doesn't seem fair.
The entire thing reminds me of the 2000 Bloggers project, and Technorati's response from a month ago:
To dissuade chain posts from submerging your voice in their dilutative effects, we've updated our indexing systems on an experimental basis to filter out links of this nature.
So instead I would like to mention a few interesting blogs, that I have personally came across recently.
Kudos.
Read more