Other
Sugar filled diet for programmer's mind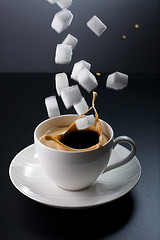 Original image by
96dpi
I feel that sugar deserves a spot as an honourary member of the Computer Science field, for its integral part in the culture. It's up there, right next to the coffee. The thing is, our brain is a powerful machine, and according to Popular Science, kicking things into the thinking gear costs 1.5 Calories per minute. That's not as much as during a physical workout; though trying to sustain active thinking throughout the 8 hour workday will add up to 720 Calories. Keep in mind that 2000 is what is recommended for daily intake.
No wonder I find myself snacking on chocolate and loading my coffee with sugar at work — sugar is a form of an easily available energy. And taking an excerpt from a certain TED Talk — hackers have gotten in trouble for the first time over the consumption of sugar, as seen in a letter below from the director of Princeton to John von Neumann, who was building the first electronic computer at the time.
Though while I'm at no risk of obesity as all that sugar is actually burned up, there are other side-effects to watch out for — most notably tooth decay, as I recently found out from my dentist. I am not yet prepared to cut down on sugar, coke, or chocolate; so it'd be interesting to hear what others snack on during the workday. Any special measures to stay healthy?
Read more
Uhh... nothing else appears to be relevant enough.