Education
Software piracy in schools

There is some buzz in world news on the state of software piracy in schools. Specifically in Russia, where a highly controversial case emerged over the use of a certain Operating System for educational purposes. Considering that Russia has one of the highest piracy rates in the world, the entire situation seems kind of ludicrous.
a principal of a public school in a small village somewhere in the middle of Russia is accused of using an unlicensed copies of Microsoft Windows on school's computers, and the penalty could be as high as five years in prison.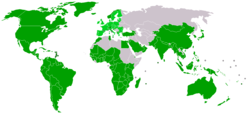 Interestingly enough Microsoft wasn't even the one to initiate this legal action. It is suspected that the Russian government itself is behind the initiative, in a bid to enter the World Trade Organization. Though I'm not about to write on world politics, or economic state of Russian population. My interest is in students.
Do students pirate software?
Students have little disposable income
Students don't see a value in investing in a software license
Students are familiar with file distribution networks
There is little legal repercussion for highschool students below the age of majority
This creates a problem with schools using proprietary software to teach courses. If the distribution license does not extend pass the classroom's lab, each student is thrown into a dilemma at the sight of the first assignment – where to get a copy of the software used? I've been to classes that required AutoCAD drawings handed in. That is a $4000 piece of software, and even a greatly discounted student license did not seem reasonable at $400. "I just need to do this homework assignment…"
What I think should be done
Open Source Software is often a reasonable choice. Open Office is equivalent to Microsoft Office, is compatible with all major office suites, and is simply free. French authorities recognize this, and promote open source software in schools. Reports, presentations, spreadsheets – check!
Other times it's a tradeoff between available software, and software that's actually being used in the industry. Alfred Thompson writes about choosing a Visual Studio flavour for use in school computer labs. At the student level, Microsoft's Express Edition products are not too far off from the Professional counter-parts, but are free to use. Students like free.
So both companies, and educational institutions need to realize that professional industry and students make up two different groups with two different objectives. Students don't have as much money as industry does, but they want to learn, and industry needs them to learn. The software needs to be more readily available to students, and not force them into obtaining it via other means. That just teaches a bad lesson.
Read more