Personal
Shutdown Day 2007: Can you survive for 24 hours without your computer?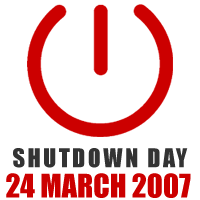 Another world wide social experiment is sweeping the internets. A global shutdown day aims to test if we can go for a day without a computer, and if so – what will happen? I can only hope that the experiment will not extend pass the recreational use, as even a minor disturbance to the vital channels of communication can quickly turn the developed world to that of chaos. Virtually every aspect of our lives is handled by a computer system, at some level. Broken traffic lights, and planes falling out of the sky are common elements of movies exploring similar scenarios.
So in order to continue living (something I currently enjoy doing) for long enough to reflect on the results of the experiment (the details of any measure are left as an exercise for the reader), let us limit the attempts to our personal computers. Conveniently enough the day, March 24th, is a Saturday, so you don't even have to miss work to participate.
There are plenty of things to do… I think. There's a whole video – "You don't have to turn your computer on to have fun with it", full of ideas. 1:30 in length, quite entertaining actually.
I will be participating just to show myself that I can in fact do this. So here's the deal, I'm looking for suggestions as to what to do, on this no doubt sunny day. 10°C, possibly scattered showers. If you think you can survive for a day without your computer, what would you do? If not, leave a comment with some ideas for me, I will consider anything short of permanently damaging hardware.
Read more