Other
Rogers ISP and their lack of neutral net
Net Neutrality is an important issue to the Internet. Google has put together a short guide that carries a simple message:
Network neutrality is the principle that Internet users should be in control of what content they view and what applications they use on the Internet.
Rogers, one of the main Internet Service Providers in Canada, has been pretty bad in this respect. They've already been shape-shifting their traffic, throttling any peer-2-peer traffic. Now the Torontoist reports that Rogers has began injecting their own content into certain popular websites.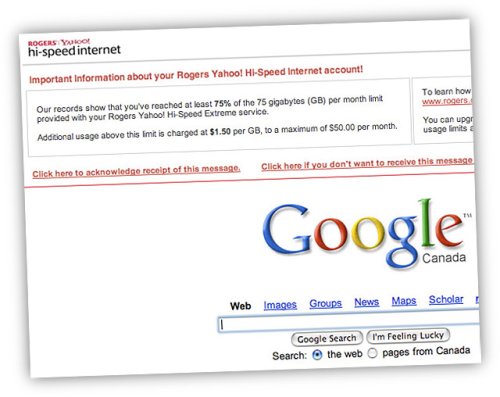 While the technique is said to be used only to serve account information messages (as oppose to using email or calling their customers), the technology itself is developed to inject any sort of advertisements into webpages not owned by the ISP. It's a short path from serving account information to "relevant" Rogers offers, to offers from 3rd party partners. The idea might be too tempting to pass up.
The bluntly obvious problem, as seen in the screenshot, is that Rogers is injecting Yahoo!'s logo into Google's homepage.
Additionally I would raise some privacy concerns. Their "acknowledge receipt of this message" links are obviously directly tied to one's account with the company. So regardless of privacy measures, such injections would allow for tracking of individuals and their actions on the page.
The issue has been brought into the blogosphere by Lauren Weinstein. And wired mentioned that Rogers has confirmed such injections.
Rogers vice president of communications Taanta Gupta confirmed that Rogers is experimenting with this technique as a way to communicate with its customers.
This might be good information to communicate to the customers, but modifying their user's HTTP packets is simply in bad taste. It is not immediately apparent, to an average user, as to how the injected content has gotten there. This slippery slope also puts the possibility of 3rd party content too close to comfort.
Read more