CompSci.ca
re: CompSci.ca Survey.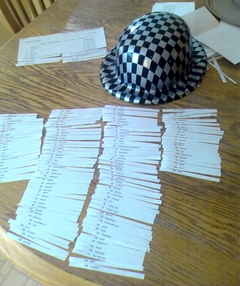 Photo by
Dan Servos
.
Yes, the draw was pulled out of a funny hat.
The results of the CompSci.ca survey are in, and the draw for the raffle has taken place. First of all I would like to thank everybody who took part, especially those of you who decided to leave additional feedback with suggestions for the community. The response has been phenomenal; Dan and I will be discussing the suggestions and how they will apply to the community.
And now, the winners.
There were 225 responses; and it seems that we get a very nice bell curve distribution around the end-of-high-school / beginning-of-university education level. Though it spans from grade 7 to PhD. graduates. What I found interesting is that very few of the high school students have heard about the community from their teachers. Judging by some of the comments, and numbers, it seems like a lot of people who might benefit from our community are simply not aware that such resources exist.
If anyone feels like emailing their current (or look up their old) Computer Science teacher, and advising students about resources that could supplement and help with their CS studies — consider that to be your public service announcement.
The bulk (49%) have ended up joining us through their own efforts on search engines. Sometimes friends. My favourite anonymous entry was:
I want to read whatever Greg Wilson is linking to
Apparently having Greg write about you, is guaranteed to increase your subscriber count at least by one. Nice.
Here is the official forum announcement. If you have missed the original survey, but want to share some of your stats and suggestions (because you are such a nice person) anyway, the survey will stay up for a while longer. Though the prize has already been claimed. Sorry.
Read more