Programming
Programming an interactive multitouch ibar with vvvv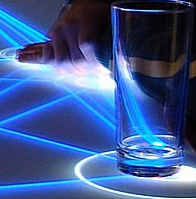 There is a nifty design idea for a visual, interactive bar counter surface. iBar – an "intelligent" surface system lights up and connects objects together in a pretty cool visual effect.
"The intelligent tracking system of iBar detects all objects touching the surface. This input is used to let the projected content interact dynamically with the movements on the counter. Objects can be illuminated at their position or virtual objects can be "touched" with the fingers."
Though Open Source Beer calls for an open sourced solution. Alright, it's not quite "open source", but vvvv is a "multipurpose toolkit" that is free for non-commercial use.
"vvvv it is suitable for many tasks involving common computer related media like audio, video, 3d animation, the internet,.. to name only the hottest. Besides creating and transforming content for the aforementioned media, vvvv is also well trained in receiving input from and generating output to various external devices."
The visual programming interface (screenshot left) will hopefully make sense out of thousands of graphical objects that vvvv's real-time system can handle simultaneously.
vvvv also supports Multi-Projection setups, lots of 3D render and analysis, Physics, Video, Audio… Just take a look at all their propaganda.
A couple of projectors, Infra-red cameras, and lots of sleepless nights coding the animations – is all that it takes to up the ante for visual display and interactivity. Amazing video!
I just need to get a hold of all this hardware (projectors could be expensive), and start building my own interactive multi-touch surface. Some cleaver coding and nifty design could soon bring the meaning of drinking games to a whole new level.
Read more