Education
MIT highlights for high school students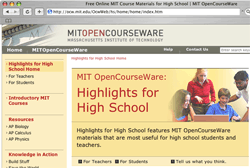 MIT has finished uploading all of their 1800 courses, so now one really could get their free computer science education, online. Though it gets better. Now there's a new portal website that brings up highlights for high school students, from the same set of MIT level courses. It's mostly just a subset of the introductory courses, but there are some just for high school as well.
The way this works is that since the introductory courses are designed for those with little background in the field, a high school student with some interest in the subject should be able to keep up.
A quote from the website, credited only as "John, the high school teacher", sums it all up pretty well.
[The MIT] videos afford students an in depth perspective into MIT scholarship and it is inspiring. It inspires them because it lets them know that they can understand and appreciate these difficult concepts on the level of MIT students…Many don't fully understand how great their potential is. This brings it home in a way I never could as their high school teacher.
Computer courses are obviously of interest here, and the selection for an introduction to the subject of Computer Science is quite excellent:
Building Programming Experience – an aggressively gentle introduction to programming
Java Preparation – an introduction to the language, libraries, tools and concepts of Java
Introductory Programming – fundamental software development and computational methods
And there's more to choose from. So to high school students, I'm going to quote Clayton on this one, "Challenge Yourself". MIT courses + compsci forums = awesome.
Read more