Software
Firefox horror screenshot – crash errors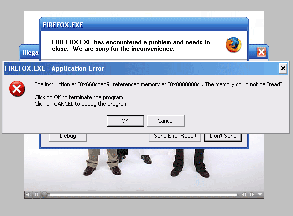 Last weekend, while visiting my parents, the Firefox web browser has crashed on me for trying to watch a video. Not the stopped working correctly type of crash, but the full out send Tony into a psychological shock over BSoD flashbacks type of crash. Complete with illigal operations, error reports, and faulty memory locations – I was greeted with a stack of error messages, destroying any hope for recovery.

Nasty type of an error message – "arbitrary instruction asked to read memory, it shouldn't have". Pressed ok to confirm.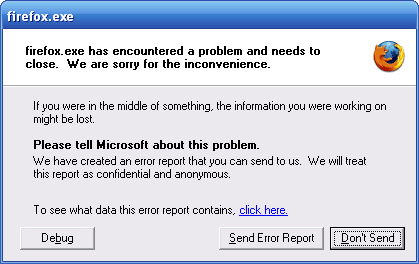 Common crash report window. "Please tell Microsoft about this problem." I don't think they are interested, especially since…

The last window, the only one with any useful information, has been rendered by the crashed application – placing any windows over it would erase the contents (no draw loop). I had to crash my Firefox a few more times before catching a readable screenshot. Error's orgin appeared to be the Apple QuickTime plug-in, an outdated version actually.
Solution? Update the plugin to the current version, 7.1.3 at the moment. Not without a sense of irony, my idea of recover therapy was to return home to my Mac OSX system.
Read more