Other
Fantasy fun with regular expressions
Just for a bit of fun, here is a comic relief from xkcd – a webcomic of romance, sarcasm, math, and language. I generally enjoy obscure Math and Programming jokes, so this one on regular expressions has earned a honest LOL.
Whenever I learn a new skill, I concoct elaborate fantasy scenarios where it lets me save the day.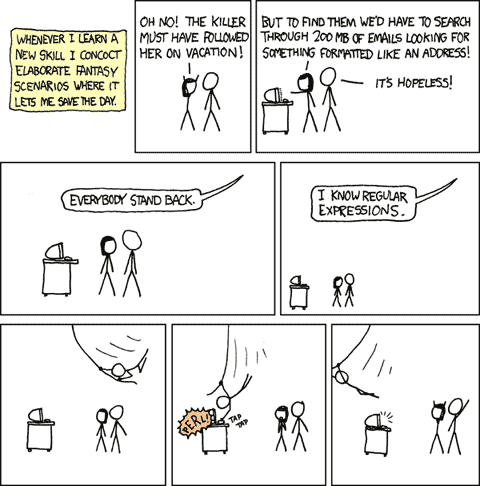 Programming while swinging on a rope might be pushing it, but then again Perl regular expressions are probably no longer than a single line. Ruby would have likewise made a fine choice.
Do you also have 200 MB of email to sort through? CompSci.ca has a complete regular expression tutorial series (in 15 parts, include omitted results). Personally, I am still waiting for Google to bring regular expressions out of Google Code Search labs, and into regular search.
Read more