Other
Death by Coffee – what's your Programming Drink?
It's just so stereotypical to think of computer programers drinking coffee all day, working late into the night. Caffeine is a stimulant, it reduces drowsiness and restors alertness, it also increases the capacity for mental and physical labor. So yes, myself and all other developers at the office regularly go out for coffee each morning, before diving into coding for the rest of the day. What's interesting is that RirianProject's excellent article on ways to improve your brain power recommends against caffeine use.
Coffee and other drinks containing caffeine help students consistently score higher on tests. Since caffeine restricts blood vessels in the brain, it isn't clear what the longer-term effects may be when it comes to your brainpower. So instead of coffee breaks try gingko biloba and gotu kola herbal teas. Ginkgo biloba has been shown to increase blood flow to the brain, and improve concentration.
I decided to investigate further. After all, as an Engineering student, I recall drinking caffeinated beverages until Physics started to make sense, just in time for exams. Wikipedia paints a scary picture:
Caffeine is a drug that in large amounts, especially over an extended period of time, can lead to a condition termed "caffeinism." Caffeinism usually combines physical addiction with a wide range of unpleasant physical and mental conditions including nervousness, irritability, anxiety, tremulousness, muscle twitching (hyperreflexia), insomnia, and heart palpitations.
Yieks! No wonder my nutritionist keep on telling me to cut down. This stuff could be deadly. A mid-sized cup at Starbucks ("tall") contains 279 milligrams of caffeine – that's lethal at 34 cups. I need to find myself a new drink.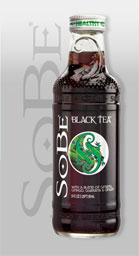 Following the original article's suggestion – "So instead of coffee breaks try gingko biloba and gotu kola herbal teas", I went looking for drinks with such ingredients. SOBE's Black Tea has caught my attention.
PANAX GINSENG 50mg
GINKGO BILOBA 50mg
GUARANA 50mg
CAFFEINE 48mg
The most notable ingredient is Ginkgo, as it's mainly used as a memory enhancer. Additionally it improves blood flow, protects against oxidative cell damage, and more. Of course, just as with any other herbal suplements, it could be no more than a placebo effect.
So what is your "programming drink"? When it comes to crunch time for coding, studying, or writing exams – how much coffee do you drink, or what do you replace it with? Let me know!
Read more