CompSci.ca
Catproofing your code. Also DWITE.
The round two of the DWITE programming contest was a success. Mr.S. himself approves:
Excellent work with the new DWITE format. The website is easy to use and the contest questions are at level appropriate for high school students. Keep up the great work and looking forward to December DWITE.

Mr.S.
A record setting 113 high school teams have taken part in the programming contest this week. We've learned a lot from the previous round, so a lot of the issues were corrected. The most noticable improvement should have been that all of the submissions were marked and returned much faster. Dan has commented on some technical details:
There seemed to be a lot less bugs in this version of the judge and things got marked a lot faster tho we did have some server lag when every one was refreshing the page over and over at the beginning. The biggest issue of this round was a cat that manged to jump on the keyboard of the computer running the judge and crashing it for a few minutes.
That's right, we forgot to catproof the code. Ops.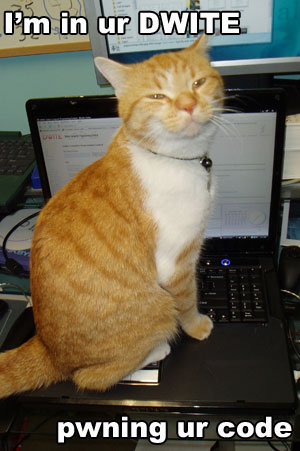 Lesson learned. It should be an easy fix for the future. Right now we've got to figure out how to handle the load generated by 100 student teams constantly reloading the website in the first few minutes of the contest.
For anyone interested, DWITE 2007 Round 2's questions, test cases, and results are available online. CompSci.ca trivia fact: Dan's cat's name is Tigger.
Read more