Other
Are you a blogger? Who cares.
For those with soft ego – your readers do. Lacking subscribers? Get your mom to comment on your blog. She still cares. Boosts your stats too.
The subject was actually brought up by the recent shutdown day that asked two questions:
"Can you survive for a day without a computer?" – Yes, I can.
And "what would happen if a lot of people were to do so?"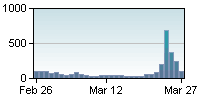 What would happen indeed? 4000 posts on Technorati and almost 2000 votes on Digg. Nearly a million views of the promotional video. After 50,000 people have explicitly claimed, on the shutdown poll, that they will participate – one might have expected the blogosphere to go quieter for a day…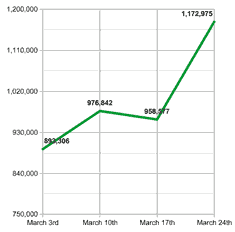 Performing a Google Blog Search for a term "the", and limiting results to a specific date, gives a pretty good estimate of blogging activity for that day. This is where the reality hits. You and your closest 50,000 blogging friends make up less than 0.1% of the estimated blogosphere. Your daily post is literally a one-in-a-million. If the entire shutdown group had blogs and stopped publishing, the small bump would still have gone unnoticed in the rising trend of blog publishing activities.

Nearly a billion indexed blog posts. How would one get to be heard, among this massive amount of information noise? We come back to the original notion of interacting with your existing subscribers, reminding friends to visit your blog, and attempting to teach close relatives about RSS.
Since I have started blogging, I have noticed that my vocabulary expanded and my writing style began to incorporate more creative expressions, in an attempt to score long-tail search hits over the typical teenage journals ranting about life. And cats. In fact MySpace domain mentions "cat"s three times as often "programming". I guess I'm in luck with my niche topics.
All that's left is asking my existing readers (that would be you) for ideas, suggestions, and your friends email addresses (I'm just kidding about that last one). Remind my friends to pay attention to me. And teach my family to subscribe.
Hi mom, can you see this?
Read more