Asides
Anti-computer force field effect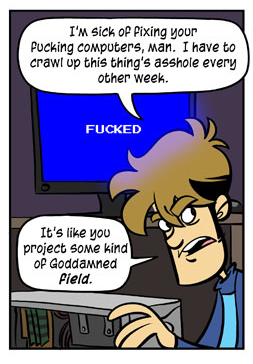 The Gabriel Effect of Penny-Arcade makes for an angry webcomic strip, but it also hits too close to home. At least in my experience.
I've been scheduling annual "wipe hard drive and clean install everything" dates with my (now) girlfriend's computer for years! And while I have very limited exposure to my extended family, the role of the "family tech support" person is still enough to make me wonder if some people are just naturally good at making software not work.
Read more
Uhh... nothing else appears to be relevant enough.