Dan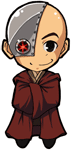 Posted: Wed Jan 04, 2006 9:34 pm Post subject: Dumping funds in to compsci.ca

---

1st i just whonted to say sorry for my abuscnes from the site rescently. A number of reasons have lead to this, the holidays, personal sickness, computer problems, stress, personal and school isuses and a few more. But i have not given up on this site or v3 tho it may be dealyed more sadly.

As some of you may know xmass time means alot of things for compsci.ca, final projects, scripty kiddys, low times, updates and a lesser know one about our contracts with our domain name peoleop and hosting coming up. The last one being what i am talking about in this subject. I am curently paying for the domain name to be regrested for 2 more years and our hosting is being upgraded to 20480.000 MB Space + 40ishMB per week and 1012000 MB + 150ish MB per week bandwith. Payed for, for 2 years as well. The funds for this come from 2 places; me and the fund rasing done once apone a time that gave us about $200 cnd (witch is gone now but worth it).

Hopfully with thess lessoned resctricions we can do more and get v3 done. I may not be on for a bit but msn is the best way to reach me if u realy need me like the wiki issue witch should now be fixed.

Computer Science Canada

Help with programming in C, C++, Java, PHP, Ruby, Turing, VB and more!