Tony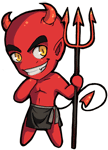 Posted: Thu Apr 10, 2003 1:49 pm Post subject: (No subject)

---

inside your loop you'll have



code:


if hasch then
getch(c)
end if




if any key is pressed, it will be recorded in variable c (type string(1)) Then if its something like "q" or something then you quit.
Tony's programming blog. DWITE - a programming contest.