CompSci.ca
The effective bandwidth of a speeding Toyota Matrix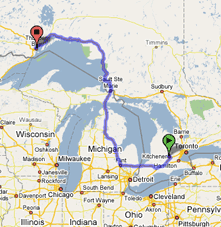 CompSci.ca is moving onto a dedicated server. This means that this blog, forums, and other projects will run blazingly fast as soon as they move out of the crowded shared host. This also means that we need to start thinking about our own off-site backup system. That happens to be located in Dan's basement, Thunder Bay, Ontario.
Trying to keep ourselves "could-get-hit-by-a-bus proof" has brought up a discussion of an unlikely scenario of Dan going to our data centre for a tour, and a bus running into a building, simultaneously taking out both our server and the unfortunate system administrator who keeps all the backup data. Ouch. Fortunately I will remain intact, yet frustrated about /blog's downtime. Waterloo, Ontario.
University to University, Google says there are 1,476 kilometers of road in between us, suggesting a 16 hour drive. Assuming speed limit, caffeine pills, and having the 500 GB external hard drive be full of useful data (lets say backup files and personal media), it was interesting to figure out the effective bandwidth of such a road-trip. The math is disappointingly easy.
Given information:
16 hour drive * 2 way trip = 32 hours on the road
500 GB of data to loot
500 GB / 32 hours = 4,551 kilobytes per second
My broadband Internet peaks out at about 4,500 kilobits per second, making this ridiculous road-trip have an effective bandwidth 8 times higher than what my DSL modem could possibly pull in. Outrageous! I demand to have fiberoptics installed.
Read more
Uhh... nothing else appears to be relevant enough.