Personal
Computer unplugged. Lived a day offline.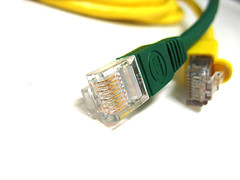 Turns out that I am not a complete computer addict, I have managed to survive a day without a computer, without serious withdrawal effects. It was an interesting experience to get myself unplugged from the intrinsic wired environment, and it placed the hyper-communicative networks we have grown to be so accustomed to, into a new perspective.
Things to do offline
Computer's disqualification has created what seemed like a plethora of free time, where "free time" is defined as a resource no longer allocated for the typical activities. Refreshing change. Highlights that filled up the day included:
Gone to sleep earlier
Advanced through Isaac Asimov's Robot Series books
Watched tv
Spend time with family
Improved game skills for Super Smash Bros
What I've missed
Without a doubt, email. To be completely accurate, it would actually be connectivity. Though email is the building block of online communication, so it makes for a representative answer. I knew that notices of new blog comments would be emailed to my inbox. I wondered if someone was looking for my response to some issue.
I felt disconnected from the outside world. Any news would be substantially delayed, and people seeking my attention would have to find alternate routes of communication. I would have to find alternate routes of communication. I actually had to warn some people of my scheduled online absence, as such impairment to the expected channel of reach would have came as a shock. My girlfriend did not understand the decision behind this feat, but I suspect that she welcomed the extended phone conversation that followed in place of text chat. (It is too bad that we were unable to go out on that day)
Lessons learned

This actually made for a psychological vacation, away from the information overload that we are exposed to each day. A welcomed break, though I found myself returning to twice the amount of usual spam, and a pile of unread RSS feed items.
Obviously a new appreciation for the ease of communication. Hundreds of contacts, whom I don't really know all that well, just a few clicks away on any social website of choice. Actually it is also reassuring that I can still easily get in touch with my entire close circle of friends, regardless of application server explosions or datacenter fires.
Finally, I've learned that I have interests outside of the office chair, and that dedicating some extra time could seriously enhance the new hobbies and activities. So next time you catch yourself refreshing a page, waiting for some new story/post/email to come up and fill your time – invest that time into something else instead. What would you do with an extra hour to spend?
Read more
Uhh... nothing else appears to be relevant enough.